Why 101Ed
Fair Trading Approved

The 101Ed NSW Owner Builder course is Fair Trading approved and recognised training.

Exceptional Service and Expert Help

Our experts are here to assist you 7 days a week to answer any questions.

Save time and effort

Our courses are user friendly as they are built with the latest web technologies.

Safe and secure

Every single page is secured with the latest 128bit encryption technology. Ensure the padlock is visible in the top left corner of the address bar.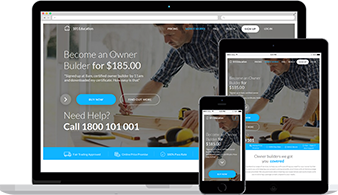 Works on all devices
We deliver all the owner builder training compatible for all your devices. It works equally well on PCs, Macs, smartphones and tablets. This includes Windows, iPhones, iPads, Android phone and tablets to name a few. The website has been tested to run on Chrome, Safari, Firefox, IE and Opera.
101Ed is a better way to learn
Start your online course and learn at your convenience. Registration is free, so you've got nothing to loose.